Join us for FamilyFest*, our annual celebration of family and fun, on Saturday, June 24, from 10 am until 3 pm.
We will have helicopter rides from 12:30 until 3:00 on a first come, first served basis. Visitors must be here and checked in by 2:45 pm to guarantee a flight.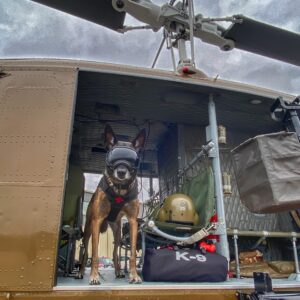 Of special interest will be a presentation to Kris Stone, owner of Torque, "The Dog With The Most Flights in a Huey Helicopter." She will have a table in our gallery, demonstrations of Torque's many skills, and book reading of her newly published children's book, Torque – The Dog Who Wanted To Fly, which will be for sale.
There will also be a classic car and motorcycle show that offers a Fan Favorite competition featuring 1st, 2nd, and 3rd place prizes. The competition costs $20.00 per vehicle in advance ($25.00 day of show, June 24). Voting for cars ends at 2:00 and awards are distributed at 2;30. Must be present to win an award.
We will have vendors, food trucks, presentations like Kirk's Martial Arts, classic cars and motorcycles and much more!
Vendor spots cost $50.00. AHMEC will provide one (1) six-foot plastic table. You may bring a second table at no extra cost if you so require, just let us know in advance. Please let indicate if you need electricity.
Stay tuned as we update this list and finalize our exciting schedule!
Cost is $20 per person. Children under age five admitted free. Members admitted free.
*FamilyFest will be held rain or shine. No refunds or vouchers for admission tickets. Helicopter rides will be refunded or honored on another scheduled ride day in 2023 in the event that the helicopters are unable to fly. Thank you for your patience and understanding.
**Service dogs are always permitted but please leave your pets at home for our visitors' comfort. Thank you for your understanding.

https://americanhelicopter.museum/events/familyfest/